SHOCEO® Reading for Success: < Five (5) Minutes.
In this edition of the She's Her Own CEO Guest Interview, we bring you NYC-based Lifestyle Expert, Trae Bodge.  Trae is an accomplished lifestyle journalist and TV commentator who specializes in smart shopping, beauty, tech, apps, toys, and gift guides.  She has appeared on Rachael Ray, Steve Harvey, Inside Edition, CNBC.com, WINS, WNEW, and Sirius Radio.
 For those of you who have not yet met Trae, we're so excited to showcase her talents here on www.ShesHerOwnCEO.com!  If you are already familiar with her work, here is a deeper look into her life and career.  You'll love this one!
Kathryn Brooks, She's Her Own CEO®: Trae, please share with us your "behind-the-scenes".  What are the personal and professional experiences that have made you into the fabulous and successful CEO that you are today?
Trae Bodge: I have contributed to several online publications, including USNews.com, Credit.com, RD.com and GoBankingRates.com.  I have served as a judge on product-awards panels including Redbook and Parents magazines, and have been featured as a beauty tastemaker in Elle, Redbook, InStyle, and Essence.  In addition, I am a sought-after brand strategist and co-founder of the cult cosmetic brand, Three Custom Color Specialists.​  I love delicious food, beautiful art, rocking music, and exploring new places.  I spend my free time with my daughter, Sadie Mae, my husband, Chris, our guinea pig, Chewy, and close family and friends.
Kathryn Brooks, She's Her Own CEO®: Trae, please tell us your favorite example of how you Lead, Provide, and Create in your professional and personal world! 
Trae Bodge: A little history.  I caught the entrepreneurial bug early in life.  My mom owned a beauty boutique and I worked there from an early age.  After college, I worked for Kiehl's Since 1851®, where I was asked to design a line of lipsticks that were sold around the world.  I also created and ran Catalog Services for the brand until I left to start Three Custom Color Specialists with two partners.
After leaving Three Custom, I spent a few years as the spokesperson for deal site, RetailMeNot.com.  It was a new position, so I was able to create it from scratch – my favorite thing to do!  After a round of layoffs in 2015, I set out to apply my branding expertise to a new brand – Myself, which I admit, was very scary.  I launched Traebodge.com and Trae Bodge Media, LLC and never looked back!
Today, I write for several online publications and share my shopping & lifestyle finds on shows like Rachael Ray, Inside Edition and local CBS, NBC, ABC and FOX affiliates around the country.  I partner in a variety of ways with brands that I believe in, and I love the sense of discovery that each day brings.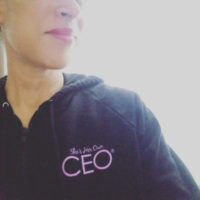 Kathryn Brooks, She's Her Own CEO®: Being the CEO of your world can take many forms (for example, volunteering in your community, holding a formal corporate position, engaging in creative pursuits, or being a reliable mom/sister/daughter).  In your opinion, what is the best way to achieve success and to become the boss of your world?
Trae Bodge: I can't boil it down to one thing, but I can give you a few that apply to my situation as a freelancer:
Balance – Work hard, but have a life. Setting aside time with family and friends is essential to my well-being. Also, my free time is when I come up with some of my best ideas!
Exercise – Make time for it even when you're traveling. It relaxes me, clears my mind and helps with my confidence. It allows me to put my best self out there every day.
Treat your freelance job like the real job it is. Get up at a regular time and put in a real workday. Keep any goofing around or attending to household issues to a minimum so you have time to relax and enjoy a proper evening.
Working alone or with a small group can feel isolating. It can also give you tunnel vision.  Spend time with others in your industry, whether it's over a coffee or at a conference. Learn, be open, and share ideas.
Even if things are going well, keep your eyes open. That part of your business that is exceeding your expectations may wane over time. You need to be nimble and ready to adjust.
Kathryn Brooks, She's Her Own CEO®: Any additional advice you can share with motivated ladies who have high aspirations?
Trae Bodge: Don't hoard your ideas or what you've learned. If you know someone on a similar path, try to help.  Root for others and they will root for you.
Kathryn Brooks, She's Her Own CEO®: Thanks for joining us, Trae!  Many entrepreneurial-minded ladies out there will love this interview and all of the insights you shared.  The freelance lifestyle is one that requires extreme focus and a desire to succeed.  It's also one that can provide many opportunities, if managed correctly.  You have shown our readers not only how to be productive, but how to effectively build on prior experiences in order to truly put their talents to use for success!
Have you put any of Trae's practices to work for yourself?  Are you considering an entrepreneurial or freelance move in your career? Subscribe to the blog, and also share your thoughts below!
xo Kathryn