SHOCEO® Reading for Success: Eight (8) Minutes + Ten (10)-Minute Video.
Fall is here!  In many ways, fall is similar to a second "New Year's" celebration.  Fall provides the opportunity to make career entrances and career changes.  Many of 2017's spring and summer graduates took the summer and early fall breaks to travel, rest, celebrate, and recharge after an intensive Senior year.
Congratulations to you!  Whether you completed a two- or four-year program, you now have another title to add to your resume (and that shiny framed diploma on your wall):  Fully Employed Adult.
The cooler temperatures and falling leaves also brings many graduates' first jobs.  If you have already landed your first post-graduation position or if you are still in the process of job searching, you may have asked yourself, "Am I ready for this?"
Taking inventory of the situation is a great first step and demonstrates that you want to build self-awareness and your emotional intelligence.  By the way, a great book on this topic is Emotional Intelligence 2.0 by Travis Bradberry.  If you are going to work for a Fortune 500 corporation or decide to pursue an MBA, you may be asked to read this book.
But back to the "Am I ready?" question.
A survey cited in a May 2016 CBS News article ("Employers: New college grads aren't ready for workplace") shows that,
"…nearly 90 percent of all recent college graduates consider themselves well prepared for their jobs.
Unfortunately for young employees, only half of hiring managers shared that opinion."
Millennials often get put into a stereotyped category.  You know the traits.  Self-centered.  Bored easily.  Constant reward- and attention-getting.  My opinion is that a person is fully able to be an individual and can transcend common perceptions.  If you are asking the right questions of yourself now, you are definitely on the right track.  Pair that ability with a willingness to accept constructive criticism, and you may have a fabulous career ahead of you!
Now, let's get to some specific tips that you can put to use right at this moment, no matter if you're still interviewing or if your first day on the job is next Monday!
I appeared as an expert guest on Charleston's FOX 24 NEWS NOW on August 28th to discuss this topic (along with some tips for making the move from the Corporate to the Entrepreneurial world).  The full video is below, and this topic is discussed around the 5:00 mark.
Entering the Workforce?  Take these Three Tips for Success with You!
1.Take Time to Learn the Culture of Your New Workplace
Of course, there are many aspects of Corporate Culture.  Many aspects.  It will take perhaps a year to learn and acclimate to all of them.
The two most important for hitting the ground running in your first job?  Dress and Communication.  If you're committed to trend dressing and are now finding yourself in a corporate environment, don't despair.  But know that you may need to make some modifications.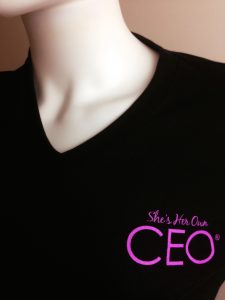 A good rule is to take ONE statement piece (a large bangle bracelet or a statement tee shirt https://www.shesherownceo.com/product/v-neck-organic-tee/), and build your work outfit around it.  Don't pair a high-low, shark-bite skirt with a cold-shoulder top and 5-inch heels.  Pack that look in your bag to change into after work.
As for communication, take time in your early months on the job to observe "how stuff gets done."  If you're in a Fortune 500 company, email and in-person meetings may be the name of the game.  The corporation I work for is known for tons of in-person meetings that often get started late and often run over the time allotment.  Bad, good, or indifferent, it is a known fact among employees.  For me, I observed and quickly learned how to prepare for those meetings, how to lead those meetings, and how to ensure that good notes were taken and that deliverables were assigned.  If you're at a startup, Text and Trello may be the tools.
Observe how written communication takes place.  If you're in a formal environment, learn how to write formally.  Even if you're in a more casual environment, GOOD GRAMMAR and SYNTAX are both always important.  They will separate you from your peers.  Your manager will notice.  Trust me.
To summarize…why should you care?  Being harmonized with your workplace's culture will help you get your job done effectively.  Collaboration and relationships are so important, especially in this era of open workspaces.  (Case-in-point: see photo at left).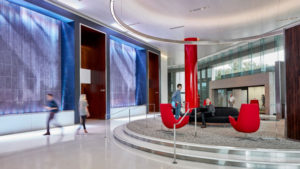 When you know how to communicate and dress appropriately, the job gets done quicker and usually with higher quality (and with a focus on the job versus a too-short-skirt.  Who wants to be INEFFICIENT?  No one.
2. Find a Mentor and Seek Out Constructive Feedback
I like this one a lot.  You probably have noticed that I value efficiency.  Mentorship covers a lot of points and can generate a lot of great results.  Networking.  Efficient self-development.  Showing your boss that you're looking to grow and are taking action to get there.  Help and a listening ear when you're feeling stuck and frustrated.  Camaraderie.
Early in your career, you'll be the Mentee.  Later, you may act as both a Mentee and a Mentor.
As you look to establish a mentoring relationship, look for the person ahead of you several levels up who has what you want, professionally speaking.  Does he or she have the public speaking skills you want, the influencing ability you want, or the job you want?
Approach that person with skills you bring to the table.  Do not, under any circumstances, make it "All About Me."  Show your potential mentor that working with you and having regular conversations with you over lunch/coffee breaks with you will be a good use of his or her time and that you are open to self-development.
Approach personal development with open eyes and ears…and positivity.
3. Think of the Worst-Case Scenario Before Making Decisions
This is a great technique to use at work as well as when you're planning your next vacation adventure.
Decisions at work can take many forms.
"Should I press, 'Send' on that terse or sarcastic email to a colleague?"  This is never a good idea.
"Should I share that great idea with my colleague prior to the meeting?"  It depends.  Does the colleague have a track record of taking your ideas and presenting them as his or her own?
"Should I set up my brother-in-law photographer in the purchasing system without consulting the local ethics officer?"  By the way, the answer to that one is "No."
In each of these scenarios, take the time to understand your personal risk tolerance and also consider the pros and cons of each course of action.  Of course, if something is ethically wrong or does not follow the code of business conduct, the answer is an automatic, "No."
Living the #CEOLife with #CEOStyle means taking risks, but with lots of research and a full understanding of the implications.
Are you on track and poised for First Job Success?  Do you LEAD, PROVIDE, and CREATE like a CEO?  Subscribe and share your thoughts below!
xo Kathryn