SHOCEO® Reading for Success: Three (3) Minutes + Ten (10)-Minute Video.
http://foxcharleston.com/news-now/female-empowerment-in-the-land-of-entrepreneurship/
Are you a modern lady who Leads, Provides, and Creates in your world?  If so, did you know the month of November celebrates your creative and entrepreneurial spirit?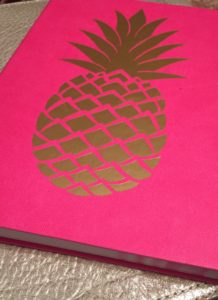 I traveled to South Carolina earlier this week for an appearance on Charleston's FOX 24 NEWS NOW.  In addition to my Pineapple-covered journal (https://charlestonmag.com/features/pineapples), I brought a few small biz facts about the Palmetto State!
With almost 400,000 small businesses in South Carolina comprising 99.4% of all businesses in South Carolina (source: U.S. Small Business Administration), have you been thinking of jumping into the entrepreneurial world by starting your own business?
Behind-the-Scenes at FOX 24 Charleston!
November 21st is National Entrepreneurs' Day and November is National Entrepreneurship Month!
Did you know that National Entrepreneurship Month began in 2012 with a Presidential Proclamation?  It's been celebrated every year since then.  The objective of the month-long event is to celebrate American men and women who promote entrepreneurship, business, innovation, and new jobs.  In addition, the celebration in November brings awareness to need for greater access to capital, networks, and intellectual property protection — all of which are important for the development of new entrepreneurs as well as successful expansion of existing businesses.
Check out the video link above to see our November 21st segment on Charleston's FOX 24 NEWS NOW, where we discuss:
What exactly is an Entrepreneur?
What are the objectives for National Entrepreneurs' Day?
Why is November a great month to celebrate Entrepreneurs?
She's Her Own CEO® and the brand's connection with female entrepreneurs (and the men that love them!)
Don't forget to check out our interview series on ShesHerOwnCEO.com, where we're highlighting successful ladies who have achieved success in both the national and international arenas!
Our BLACK FRIDAY sale is ON!  We want to celebrate viewers looking to take the next step into the entrepreneurial world.  To help, we're helping them jumpstart their new CEO lifestyle with a special offer on www.ShesHerOwnCEO.com.  Just enter code: CEO20 at checkout, and receive 20% Off, site-wide!
Is National Entrepreneurship Month inspiring you to set out on your own?  Do you LEAD, PROVIDE, and CREATE like a CEO?  Subscribe and share your thoughts below!
xo Kathryn