SHOCEO® Reading for Success: Six (6) Minutes.
 For this edition of the She's Her Own CEO Guest Interview, we are excited to bring you Theresa Payton!  Theresa is one of America's most respected authorities on Internet crime and security, fraud mitigation, and technology implementation.
 Theresa founded Fortalice in 2008, and before doing so, served as the first ever female White House Chief Information Officer (CIO) in the Office of Administration at the Executive Office of the President.  She was responsible for the technology enterprise for the President and 3,000 staff members.
 Theresa also has a TV resume!  You have most likely seen Theresa serve as the Director of Intelligence on CBS's Hit Reality Show, "Hunted".
Theresa graciously brought her tips for maintaining your own cybersecurity to an Atlanta business audience via her engaging presentation, "Stay a Step Ahead of the Adversary: #GoodGuysWillWin."
 If you haven't yet met Theresa, we're so excited to introduce you to her here on She's Her Own CEO®.  If you're currently a Women in Tech or an aspiring entrepreneur, this is an interview you don't want to miss!
Kathryn Brooks, She's Her Own CEO®:  Theresa, what are the educational and career experiences that have made you into the fabulous and successful CEO that you are today?
Theresa Payton, Fortalice:  Education is of the utmost importance to me, and has underscored my success in the technology and cybersecurity fields.  I hold a Master of Science in Management Information Systems from the University of Virginia, and Bachelor of Arts Degrees in both Economics and Business Administration from Immaculata University.  I earned a certification in Computers from Immaculata University, as well as a certification in Graduate Banking Studies from the Graduate Banking School at Louisiana State University.
I believe strongly in improving cybersecurity, and I frequently lend expertise to government and private sector organizations to help them improve their information technology systems.  I was also a cyber expert for the syndicated program "America Now", and have been a regular guest on global news programs for TV, Radio, and Print.
When you surround yourself with good people, you can do amazing things.  I believe some of my recent awards are a reflection of the work that my team and I perform for our clients, and I was honored to receive accolades from my colleagues.  I was named as one of Security Magazine's Top 25 "Most Influential People in Security" and was recently named as the 4th "Most Influential Global Security Expert by IFSEC Global" on their list of "Top 50 Global Security Professionals".
Prior to working for the White House, I spent 16 years as a senior technology banking executive using emerging technologies to provide solutions while fighting back malicious fraudsters.
Kathryn Brooks, She's Her Own CEO®:  You have such an impressive résumé!  Please take us "behind-the-scenes".  Tell us your favorite example of how you Lead, Provide, and Create in your professional and/or personal world!
Theresa Payton, Fortalice:  I truly believe in servant leadership — everyone on the team contributes his or her own unique gifts and talents to the mission…and I'm not better or above anyone.  Funnily enough, I don't even have a private office in any of our locations!  If you think of the global impact servant leaders have had on us over time, look no further than one of my go-to leadership mentors, Saint Teresa of Calcutta (also known as Mother Teresa).  Once, someone asked Mother Teresa if she "had set any big, audacious goals, like eliminating poverty."  One of her sisters, Sister Prema, responded, "Oh no.  Mother Teresa was completely focused on helping one person at a time."  Saint Teresa said once, "If you can't feed a hundred people, then feed just one."  Likewise, I aspire to help one person, one company, at a time.
One of my true passions is helping those around me be the best versions of themselves.  Oftentimes in business — and especially technology — women are underrepresented in every area.  Last year my company created a virtual movement called "Help A Sister Up" to provide a forum for women — and their male advocates — to congregate, share tips, post job notifications, and be encouraging and supportive.  It's been really inspiring to watch it grow, and we can't wait for year two!
Kathryn Brooks, She's Her Own CEO®: Being the CEO of your world can take many forms (for example, volunteering in your community, holding a formal corporate position, engaging in creative pursuits, or being a reliable mom/sister/daughter).  In your opinion, what is the best way to achieve success and to become the boss of your world?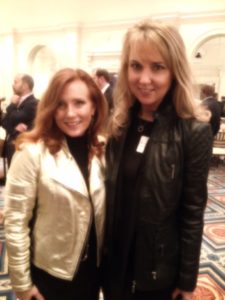 Theresa Payton, Fortalice:  I completely agree with you that anyone can be the boss of her world, regardless of title!  The most important thing is to be passionate about what you do, whether that's running a company, being a stay-at-home mom, or something in between.  I believe that everyone has God-given potential and talent and inherent self-worth, and when you pursue the calling of why you were placed on this earth, you can't be anything but a boss!
Kathryn Brooks, She's Her Own CEO®:  Love that!  Any additional advice you can share with motivated ladies with high aspirations?
Theresa Payton, Fortalice:  Find your strengths.  Don't be afraid of your weaknesses and don't dwell on them.  Surround yourself with smart people that complement your strengths.  Always learn from those around you.  Never forget to say, "thank you."  Two more pearls of wisdom from Saint Teresa:
"I would rather make mistakes in kindness and compassion than work miracles in unkindness and hardness."
"I can do things you cannot, you can do things I cannot; together we can do great things."
For additional reading on protecting yourself and your family online, I recommend reading, Privacy in the Age of Big Data: Recognizing Threats, Defending Your Rights, and Protecting Your Family; and Protecting Your Internet Identity: Are You Naked Online?
Kathryn Brooks, She's Her Own CEO®:  Thank you, Theresa, for sharing your leadership and personal insights with us!  You have created an amazing career with your commitment to education, as well as to faith, hard work, determination, and helping others succeed.
Are you currently working in the Tech field?  Is cybersecurity a focus for you professionally or in your home?  Subscribe to the blog, and share your thoughts below!
xo Kathryn